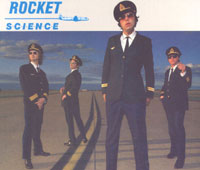 PAST GIG REVIEWS
Saturday September 18 1999
Melbourne Showgrounds
A very unusual Rocket Science gig - a grand total of about 5 people interested in what the boys were playing. Despite the lack of crowd energy the band managed to work up a storm in one of the best outdoor sets that I have ever seen. Burn in Hell and Six Foot Four were some of the main highlights in a very intense set - at least the band were enjoying what they were playing - get paid to have a jam session - allowing them to try stuff out in a live format ;)
David Blom


Minke Bar
Adelaide 20/04/01
Rocket Science blasted onto the Minke Bar stage with the thumping "International Jetset" and ended with "Jet Lag Down The Pills". The band performed newer songs, Snake,Economic,Sound, Action (which I hope will end up on the new cd) as well as old faves "Six Foot Four,Run Like A Gun,Being Followed, Car Chase and Copycat". As usual the punters went wild when the enigmatic Roman Tucker hit the opening chords to "Burn In Hell", always the crowd favourite.
The theremin action was well and truly happening and seeing Roman in full flight had everyone mesmerized, But with such a strong stage presence Roman has, who wouldn't be?!
Romans voice was in top form and he belted out song after song with such energy, that his instruments rocked nearly as much as he did!
Superstar Kit Warhurst drummed like a madman which complimented the always cool looking Dave Grays hammering bass lines.
Paul Maybury as ever, was the true rockstar, fag in mouth pulling the rock moves and banging the shit out of his guitar. Oh, he's also a bloody good guitarest as well. This guy knows his stuff. It's a pity the stage wasn't bigger, so we could see more of his axe wielding talents.
The crowd lapped up every moment of this hard rocking "real" band, because thats what Rocket Science are, real musicians playing real music for real people, and don't the punters know it.
If you've never seen Rocket Science live, check them out next time they come to town, and have a wild time. You'll talk about it for weeks and count the days till they come back.
Karen T



Rocket Science - Live at the Wireless (broadcasted live on JJJ)
Set list was as follows:
6 foot 4
Burn in Hell
Car Chase at 20,000 feet
International Jetset
Heavy Traffic
Being Followed
Run Like A Gun
Jet Lag Down the Pills
Copy Cat
Going Away

One of the best quality performances Rocket Science have ever done - certainly it brings glowing memories to the boys when you remind them of how well they played for such a large radio audience - to nail every song perfectly. Quite interesting to note that this performance is about 5-10 minutes longer than the Welcome Aboard Album. The set brought us our first tastes of Run Like A Gun, Going Away and Heavy Traffic. With the versions of Run Like A Gun, Copy Cat, Burn in Hell and Six Foot 4 being the standout performances along with Roman's excessive use of the theremin at times, Paul's swapping over to the feedback guitar and the pure distortion volume at the end of the set.
Dave.



Falls Festival 31/12/00
Rocket Science were the band that really kicked the afternoon off. As usual, and despite the heat, they had a fiery satanic energy, stemming from the organ which forms the foundation for their songs. Burn In Hell was the pick of their set, but as usual they treated the crowd to some great new material.
Andy Brewer db magazine

Heaven II Adelaide 13/10/00 (Boss Hog Support)
Rocket Science sent out song after song og great dirty rock'n roll, the crowd going especially nuts for Burn In Hell.
Andrew P Street db magazine

Enigma Bar Adelaide 22/9/00 (cd launch)
Rocket Science are a band that should they fall short of any expectations live, the results would be devestating.
Steve Jones db magazine

Hopetoun Hotel 2/09/00
Not all that long ago I read a book by Homer H. Hickam called Rocket Boys, in which a group of youngsters living in a mining town decide to build rockets.
Rocket Science remind me of that scenario. Instead of being spurred on my Russian engineering and employing the use of scrap metal and household chemicals, the band use retro guitar lines and blues riffs to make the Hopetoun get down and dirty with them. It obviously works well, too - it's the first show I've been to in a long time that was actually sold out.
I'd be a liar if I said that there was something in particular that stood out for me, but I would definitely like to give them another look at them before I cast judgement. They'll go down a treat with the Boss Hog crowd when they open for them in a month or so.
In an interesting footnote, the oh so rock and roll antics of Rocket Science came to a sticky end toward the end of their set. I was sitting on the footpath catching up with old friends while it occurred but I have been reliably informed that the guitarist jumped from the stairs mid-song, collecting the cigarette machine and some surprised punters on the way to the floor. Let's hope everyone recovers quickly and no one had to do without their B&H's as a result.
tribe.com.au


Enigma Bar Adelaide 22/09/00 (cd launch)
Who need the John Spencer Blues Explosion when us Aussies have got Rocket Science! Do Rocket Science know how to put on an in-your-face rock show? Yes!
Friday night saw Rocket Science blow the hell out of their anps, as well as the crowd at the Enigma Bar, for what was the launch of their Welcome Aboard the 3C10 debut CD. It took only 10 seconds into their opening song Secret, for the crowd to go nuts and boogie on down.
This was one of those gigs that if you hadnt heard all of their songs beforehand, it didnt matter, because after each song you were thinking, now that song was wicked, I have to get the album. In fact, every song they played was wicked, with the obvious Triple J radio hits, Copycat and Burn In Hell, rocking the Enigma crowd the most. The majority of the tracks they played were off their Welcome aboard the 3C10 2000 release, with a few new ones thrown in just to show that they have a lot more songs in their catalogue. They finished off with an absolute madcap version of Get Out.
The whole gig witnessed Roman going bananas on his Hammond organ and the Theremin, while trying to sing - he pulled it off beautifully. Paul had the classic rock star pose; playing the lead guitar with the fag hanging out of the mouth - I think hes done it before. During the last song, Get Out, he bashed his guitar on the wall to achieve the distorted effect - now thats rock. (I dont think the Enigma Bar owner was too happy about Paul leaving some dents in the wall). Kit (he was born to play drums with a name like this) - who plays the skins like the late Keith Moon (The Who) and looks like Mani (ex-Stone Roses, currently Primal Scream) - was just a drumming machine all night. And Dave (who looks like Mansuns guitarist) on bass, was just poetry in motion.
Go see these guys next time they come to town, because they are already hot property. Rocket Science knew how to rock Adelaide all night.
Darren Leach adelaidetribe.com


Date: 31/07/2000
Both kinds of music in a '70s flashback

Naming themselves Rocket Science, presumably as in "this is not", says something about this Melbourne band's ethic. There is a raw, garage feel to their music - perhaps not surprising as their debut album, Welcome Aboard the 3C-10, apparently came out of a casual, get-acquainted jam soon after they formed in 1998.

Introducing their biggest hit single Burn in Hell, guitarist Paul Mayberry deadpans this has got Riffs, AND Vocals, like the line in The Blues Brothers about both kinds of music. What more do you need?

But despite this, Rocket Science is not a guitars-only band: frontman Roman Tucker plays a big Hammond organ in full rock pose, feet about two metres apart; and occasionally a demoniacally howling theremin which he operates with Pentecostal flair, like he's conducting some kind of rock 'n' roll exorcism. He struts spasmodically a la Joe Cocker, singing like a man possessed.

Tucker evinces a kind of showmanship that is not far from the intersection of the hammy rock show and the all-singing, all-dancing, all-bullshit world of TV evangelism, but he does it naturally without getting bogged down in self-conscious irony or excessive banter.

The work of drummer Kit Warhurst is the engine that propels the show, pushing the band full-tilt through each song. The whole effect is alarmingly retro: certainly visually they're somewhere between the Animals and Cream, even at moments the Doors, but that could've just been bassist Dave Grey's Manzarekian hairstyle.

Given an oil lamp backdrop, the crowd at Manly Fishos could have been in the Whiskey Au Go Go in 1970. If not for the Wallabies jersey framed on the wall.

With their chaotic, garage-punk-smashing-into-blues riffs, the closest modern point of reference is the Jon Spencer Blues Explosion, but Rocket Science convey a confidence that isn't borne of imitation. Plus the Hammond takes things in an altogether different direction to the bass-less American trio. As the band breaks into the raucous Hendrix-esque swamp blues groove of Copycat, another song that's been getting some airplay, members of the audience start moving almost without their own volition.

It's a simple, repetitive groove, but damn it, it works.
Kelsey Munro Sydney Morning Herald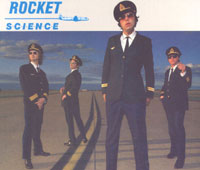 PAST LIVE TV APPEARANCES


House Of Hits - 7/00 - Copycat,

The Joint - 16/10/00 - 6 foot 4, Burn In Hell, Copycat, Instrumental,Interview,

The Joint - 7/12/00 - Phone Interview With Roman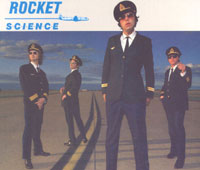 PREVIOUS INTERVIEWS
May 2000
Interview with Kit Warhurst

"ITS NOT AS THOUGH WE RE ALL NEW fish in the pond: all of us have been playing for around 10 years in a lot of very different bands, so now we all know what we want to do, and were not sick of it, because we are all still hanging around," says Kit Warhurst drummer for Rocket Science.

The band, he confirms, has been his main concern for the past eighteen months, although Rocket Science shares members with such other Melbourne bands as Velvet Tongue, Hog, The Freeloaders and The Martians.
It all came from the germ of an idea by chief writer, vocalist and intrepid organist Roman Tucker, who lured them into the rehearsal studio just to see what would happen, and from that initial rehearsal the magic began.

"We all got together and it worked incredibly well says Warhurst. Dave (Gray, a bassist well known from his time in many Adelaide bands) actually rang up Paul (Maybury,guitarest) that night after rehearsal to ask if he thought that was as good as he thought it was. So we knew we were on to something, and I know that sounds clicked, but it really did sound good right from the moment we atarted to play."

I noted how the album does indeed sound like one big jam session, and that the title track Welcome Aboard the 3C10 was infact recorded in an offhanded manner on two track recorder that fateful night. if i really needed any convincing on how incredibly honest the Rocket Science sound is Warhurst offers the proof...

"Theres some proof of what that night was for us, its kind of why we put it on there really. Because we were really proud of it, we were first and foremost fans of what we came up with, we"ve really enjoyed it right from the word go".

The rest of the album was recorded over a four month period (in a studio), so it would have been all too easy for Rocket Science to overproduce and sanitise their sound.Considering the thematic and conceptual nature of their venture, the danger was in them coming across as somewhat contrived, but as the name belies, it aint rocket science. Instead Welcome Aboard the 3C10 is just about the freshest, most exciting and punkiest collection of offbeat tunes youre likely to find this soon into the millenium: even if they do appear to be a throwback to the fifties and sixties. The band is almost boasting of their love of the era of bad film and television culture..

"Definitely says Warhurst. We're all big fans of different genres of film and especially the soundtracks that come from them. You know, sci-fi horror, blaxploitation, biker flicks, early sixties porn, all that kind of thing. A lot of music we listen from our collections come from that and were heavily into instrumentals."

Now he"s warming to his theme.

"When we come up with songs well talk about the sound in the stylistic sense of some sort of film. he enthuses. We then have to go down the same track, like we may say this one is a spaghetti western, so we have to picture that."

With the title of this debut, and the CD artwork (theyre all dressed as pilots standing on a runway), presaging some aviation concepts within, Ill add to their credit that theyre supplying the right ticket here and believe me the turbulence along the way is half the fun. Using a huge Hammond sounding organ (provided by a late 70s model Yamaha fed through a Lesley cabinet) to provide the impetus to the albums frenetic pace, it does come as a bit of a surprise to learn that such controlled fury is in fact Roman Tuckers first attempt at writing and performing with keyboards.

"Yeah that"s right. He"s never actually played one in a band before, allows Warhurst. I think as a musician he had a limited background with the instrument as he only knew finger placements and chords...But...his playing thats more his background and what he thinks music should or shouldnt be and what works for him. Hes always played in bands that were heavily based in punk, so he approaches his keyboards as he would his guitar, definitely emotion over technique."

Steve Jones db magazine


July 2000
Interview with Paul Maybury.

Melbournes groovy as psychedelic garage rockers Rocket Science, have created something of a sensation during their short time together, amassing a formidable live reputation playing with the likes of You Am I, Andre Williams, Rocket From the Crypt, Mudhoney, The 5,6,7,8s and guitar wolf fuelled by frenzied theremin, genuine rockin and space walk organ. Theyve even managed to break into the increasingly less dangerous play listing of one time National bastions for free thinking radio Triple J. In a rare, adventurous show of taste (in rockn roll), Rocket Sciences single, Copycat is currently luxuriating in the glow of high rotation on the alternative station: alongside other surprisingly cool sounds by way of Boss Hogs Whiteout and Luxedos You Really Suck.

Their guitarest Paul Maybury (Megalong Valley and ex Hog of Sydney) was kind enough to explain the origins of not only the band, but their hot new record too.

"When we recorded this after only five gigsif not less!" He exclaims incredulously.
"We'd only been together for about four months by that stage and had 15 songs, so we went in to record just to see what it would sound like. We did it on a 16 track, but it was fairly frantic and only for our own satisfaction. Steve Pav (infamous concert promoter and head of Modular Records) came to see us play a show with The Make Up (a raw Washington DC rock'n'roll act) and asked us to send him some stuff, so we sent him that. He then got back to us saying he wanted to release the record as is! It was great to be able to have such a raw piece of work tickle the ears of jaded industry types and get it played on the radio! I always assumed there was a Tonic requirement to get on the radio and that certainly wasnt within our budget! You dont get much more garage rock I mean you should've seen the studio!"
He groans playfully before resuming.

"It WAS a garage. Just to get it realeased is a major achievement I think!
We're really excited to finally have it out to. Its been finished for over a year but has been bogged down in negotiations."

Together for only four months?!
Fifteen songs?!? Cripes on a bike fella. That's quick work I must say. That explains the exerpt from the bands first ever jam you tacked on the end. Nice touch.

"We HAD to do that. We were really happy with that and thought we'd offer a little taste of what it was like when we first rehearsed. I didnt know Kit (Warhurst, drummer and ex- Manic Suede) or Roman (Tucker, vocals, electronic organ and theremin and ex- Martians) at the time we all got together, but I knew Dave (Gray, bass, The Freeloaders, an Adelaide ex-pat whose history here includes Pigs Nipples, Mother Fuckers, Superfly etc) because were both in Megalong Valley of course.
Roman had come up with a few demos and he called us together to have a one off jam.Thats what it sounded like from the first rehearsal, so we figured we'd best be a band! We figured wed put a little taster of our very jam."

Did you have any idea what to expect before you walked through the door?

"Well from the demo tapes Roman gave me, it struck me as loungey 60s garage kinda riffs. Probably four or five of the songs that turn up on the record were on the demo. Because Roman has used an ancient drum machine and a wheezy old grandmas lounge room organ on them, they sounded more loungey. But when we got all together, our history of being in rockn roll bands for years , just took over and it came out as just rocknroll.
This is a real leap ahead of what we'd already been doing. It seemed to take on a life of its own. Theres a lot of different influences at work in there. Were all into b-grade sci-fi films and soundtracks to Italian horror films and things like that. That's why its thematic, and why the CD artwork almost looks like a soundtrack to a movie. Those influences took it away from being just trying to drive a riff home and through your skull. Its more spacious and groovy. Im glad those things bubbled to the surface coz we've all got different backrounds, but thers plenty of common ground when we play together.
It wasnt like we ever went lets be THIS kinda band. It went much further than that or anything we couldve predicted. Its the sum of our influences and affected by the way we play together. Thats just what we like. Im really influenced by rockabilly stuff Link Wray and those nasty guitar players. Romans heavily into American and English classic garage rock and so is Dave. Kit's into all that stuff too, but also things like Portishead and bit more spacious electronica.
Everyone is coming from a different angle but we all have common ground and that is 60s garage rock and thats what we all agree on as great music.
It was only semi-international but we were never going to deny all the other aspects we love about music just to fit into some genre"

You also seem to have brought that beat back.

"Its good to hear you noticed, coz thats how we think of it to."
By Nazz Rip It Up



May 2000
Interview with Roman Tucker

Jet Setting with Rocket Science

Mix one part DIY punk with a pinch of garage strut and a helluva lot of
charisma and what do you have?

Rocket Science Melbourne's most exciting new band and a name that have been on the lips of those in the know since their inception in July of 1998. And do they rock?

"I think the kids can get into it," states Rocket Science front man Roman Tucker without a hint of irony.The group - Tucker (who handles vox and Hammond organ), Dave Grey (bass), Kit Warhurst (drums) and Paul Maybury (guitar) - are a hybrid of all the members' various musical influences. From straight edged guitar rock, to raucous garage punk and inspired psychedelic wig-outs Rocket Science are raw and immediate, offering a fresh take on the vintage rock equation

"We're really into the whole punk energy," says Tucker. "Intensely powerful, high energy music. That's the drive for me. Hey, we're not Californian punk or even the kind of 'punk' the kids are listening to now but I'd like to think that we have the right kind of thrust for the music to be taken on. It's not complicated or overly bogged down in trying to be philosophical or adult - it has a real adolescent flair to it."

Just months after the group formed they headed into the studio to record some demo material. What was initially just a jam session, a practice for all the members to become more acquainted musically ended up resulting in Rocket Science's acclaimed debut record Welcome Aboard The 3C-10, one of the most exciting, confident and charismatic debut albums by an Australian outfit in eons.

"It's like 'HELLO', here we are!" jokes Tucker, "I think music should have some kind of passion, vibe and attitude. People's ears are absolutely crying out to hear something fresh and people really want to sink their teeth into something different. I think Rocket Science have a fresh vibe on the ear when they're hearing it for the first time."

"One thing that makes Rocket Science endearing it's their confidence. "We're feeling really good about what we are doing and we are very confident," admits Tucker, "because it seems like in Australia it takes ages to prove to an audience that you've paid your dues, so to speak, and that seems to be a very Melbourne thing. It's like 'Who are you anyway? Where have you come from?' and to get respect you have to have been doing it for years and years. We don't just feel confident about playing live or recording, we feel confident about the entire situation, and it's taken me eight years to become this confident. The four of us are totally in tune musically, and we all back each other up, we don't crowd each other and we all get along really well. These are all subtle things that take years of development and when it gets to the point when it all starts to click it's just magic."
Ben Shepherd
tribe.com.au


September 2000
Interview with Paul Maybury

We caught up with Rocket Science guitarest Paul Maybury as he was languishing in the warmth of Melbournes first sunnt day in six months. Last time we spoke, their first single Copycat, had just been released from the album Welcome Aboard The 3C10 and Paul was wondering how it would be received. Of course since then, Australias National alternative radio station Triple J, seized upon the song and have now moved to the opening track, Burn In Hell.

"It's been going pretty good hasnt it? Lovely I must say. We've got the Boss Hog tour soon to, and well be over in Adelaide this coming weekend for the first time since last New Years Eve!"

Thats a long time between drinks mate.

"Yeah, weve been pretty busy. I'm really looking foreward to coming back though. We just did a tour with Tumbleweed that took us up and down the East Coast and that was good. We just did a couple of sell out shows of our own in Sydney last weekend which made us all pretty happy."

Are we starting to reach a critical mass with nuts'n'guts and groove attitude sex music at last?

"I think everybody needs a good healthy or unhealthy dose of rock'n'roll as you know. Were happy to provide it if nobody else will. Well step up for it.
It seems that people have started to dance at our gigs which is just fantastic. I havent seen that for a long time."

Will you predominantly be playing material off the new album for the Adelaide shows?

"We do have a lot of new material. We try to have a new set every night nowadays. We change things around a lot, so well probably end up doing half and half. Well decide on the night. Its always a debacle when we get together to write the set list five minutes before we go on. Well definitely be playing the bulk of the record."

How does the new material sound?

"All the different areas we covered on that album, we're going further down those paths. Some of its really straight ahead, Kinks styled rock'n'roll, some are much more sparse and funky sounding. We're just taking it another step further. (organ playing vocalist) Roman's the most prolific songwriter in the band, but we all write. Actually, Kit (drums) hasnt written anything for the band yet, but hes a very strong songwriter as well. Our bass player Dave has written a couple that were working on at the moment and I manage to churn out maybe on e song every six months(laughs)!
We're all writers but Romans definitely the most prolific and hid ideas encapsulate what the bands all about. He brings those ideas in and we all talk about how were going to hammer them out, try different versions and come up with the finished product."

Now, your original garage demos the ones that promoter Steve Pav salivated over and turned into your debut album for his label Modular were never intended to be the finished product were they?

"Yeah we were never actually thinking about then for a record. We didnt really put a name to what they were. They could've just been demos for us, but other people liked the sound so we were happy to release them."

What kind of studio would you turn to for the follow up record?

"We're going to demo all the material and try to work out what it needs, with a traditional producer wholl get into helping with the arrangements and sort the writing out. Wed like to do that, but itll all depend on budgetary constraints and whos got the most enthusiasm for it."

In an ideal world who would your first choices be?

(Laughs) "Ive got a few! Id like to get Vanda & Young (producers of the original AC/DC albums) to do it. That'd be a great rock'n'roll recording! They obviously know all about guitar sounds and what makes a great song. Thats probably on top of my wishlist but on the other hand, Id think maybe someone like Lee Scratch Perry (infamous experimental Rasta heavy dub reggae producer) might be good - just to turn it on its ear and see what he could do with it. Thatd be great wouldnt it? A rock'n'roll band produced by the biggest nutter in the world (laughs)!
We cant afford either of those people, but thats the kind of mind we'd like to attract if only we could decide whether we wanted to make it a straight ahead pumping rocknroll record or an off the world experimental thing. Itll just depend on what the bulk of the material requires."
By Nazz Rip It Up Magazine